Ankara Styles for Babies- Beautiful Ankaras are not meant for adults only, the kids can also rock these adorable and stylish Ankaras. Ankara print is in vogue and you definitely don't want your kids to be left out in this trending African fashion and style that is currently booming.
Cutest Ankara Outfits for Kids of All Ages
#19- Vibrant and Fresh Colours of Ankara Dresses
The intense shades of Ankara fabric make them ideal for infants and kids. The Ankara African Prints are very eye catching. These fresh shades can be worn any day – while some are more appropriate for occasions like weddings, birthday parties etc. The clothes can be designed using entirely Ankara fabric or can be blended with dim shades for those who are not fans of such sharp colors. You can spice up your kids' wardrobe with Ankara Style skirts, shirts or shorts because these striking prints are overwhelming the fashion trends nowadays.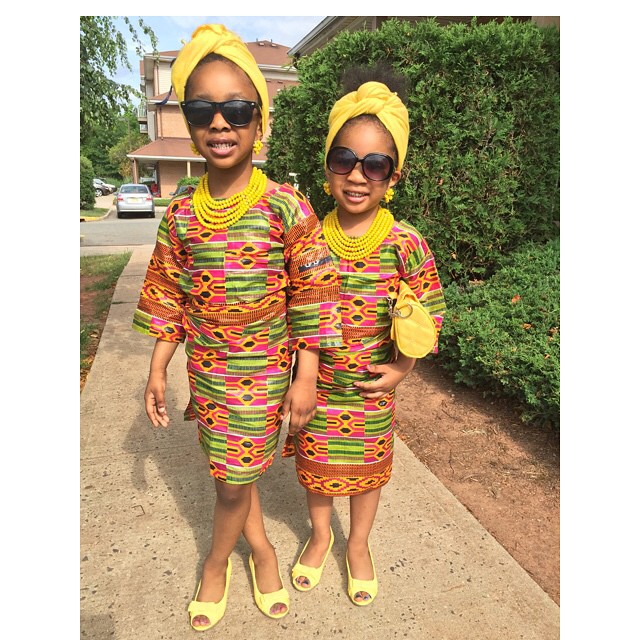 #18- Ankara Skirts and Tops
In this contemporary fashion world where everyone needs to look stylish, you can make your kids look stunning in these beautifully patterned Ankara skirts and tops. However, one can either wear a patterned skirt or a patterned top; a patterned skirt with a patterned top will be a complete disaster!
#17- Ankara Short Dresses
Ankara short dresses are very popular among kids wear. These cute frocks are preferable in summers specifically. Such short dresses could make heads turn especially in the local prints. Ankara fabric is so much on the high side as compared to the other fabrics.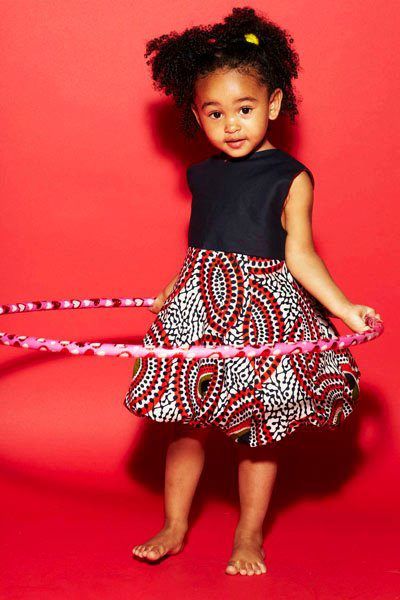 #16- Ankara Long Frocks
Girls aged between 8-10 can look ravishing by wearing these elegant long frocks. These long frocks are quite suitable for formal events like dinners, anniversaries etc. These long Ankara dresses with appropriate accessories can make your princesses look dashing.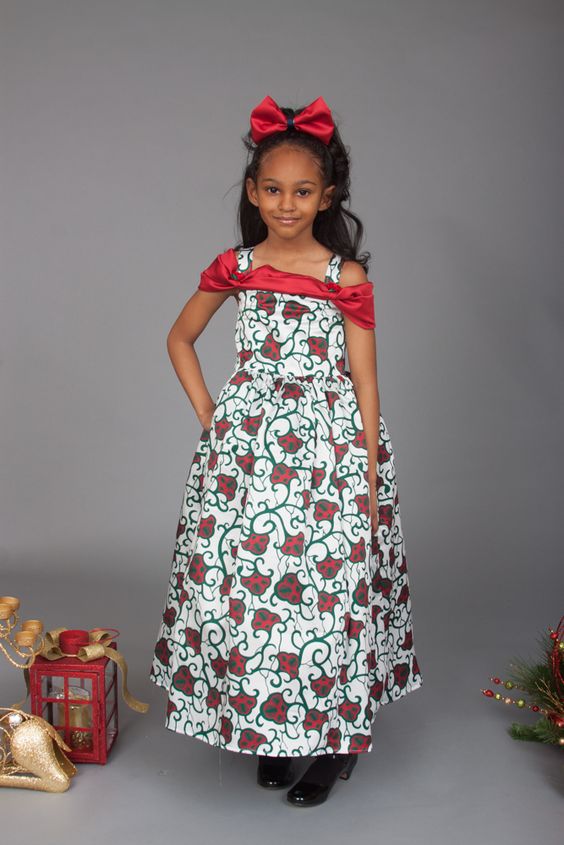 #15- Gown Style Ankara Dresses for Weddings
Urban styles Ankara gowns can be worn at the ocean coasts or at musical events. These gowns look very graceful on wedding ceremonies. Such gowns add a new edgy and urban twist to the traditional look of Ankara. Because it originally comes from Africa, most authentic Ankara fabrics are lightweight, airy, and easy to wear in the heat. This makes them the perfect attire for a music festival event.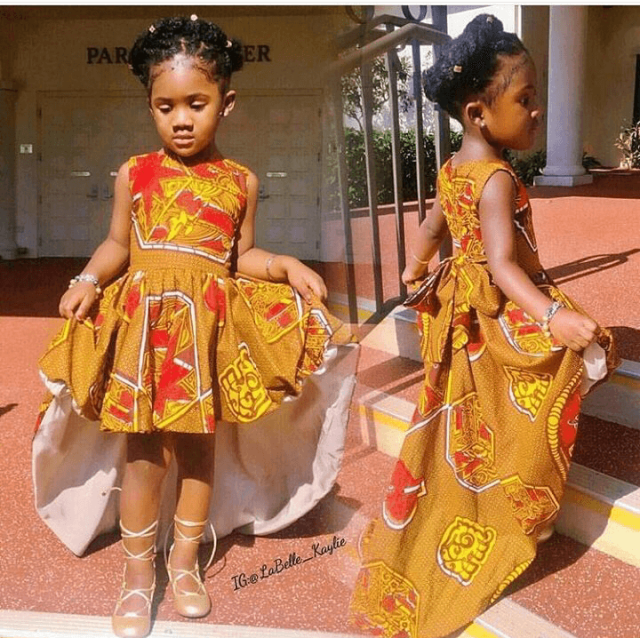 #14- Off-Shoulder Style Ankara Dresses for Summers
Off-shoulder tops made with Ankara fabric will definitely give your mini-me a wow look, these are extremely classy and can be worn at formal occasions. The style is so cute and chic and looks extremely beautiful on kids.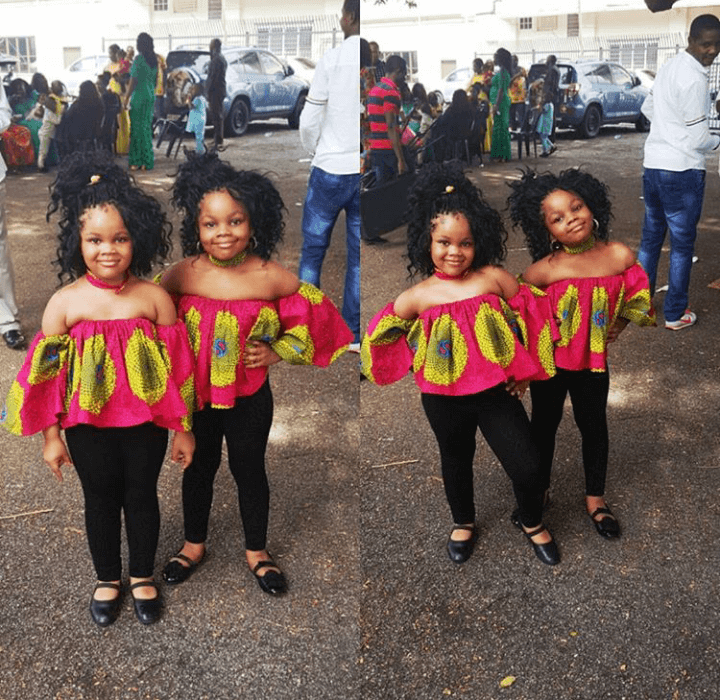 #13- Ankara Jumpsuits for school
Jumpsuits are very common and trendy among kids nowadays. Ankara jumpsuits can make your girls look smart and stylish at the same time. Apart from ankaras, kids and ladies both also look great in aso ebis, so have a look at 2018 Aso-Ebi styles – 18 Latest Lace and Aso Ebi Designs These Days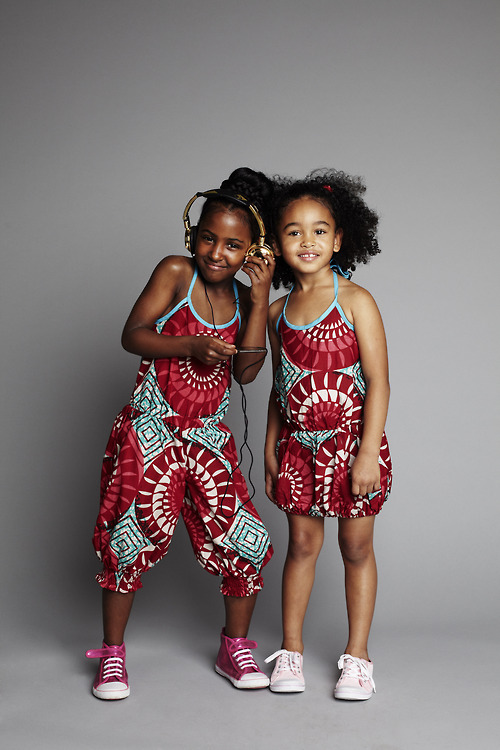 #12- Trendy Ankara Maxy Skirt Style
One amazing thing about this trendy Ankara maxy style is that it can be worn by kids irrespective of their age. The flair and length of this design make it easy to wear. Your mini-me will look very modest and chic in it.
Step by Step DIY Video Tutorial – How to Make Ankara Pants for Kids
#11- Dashiki Style Ankara
Dashiki fever! Dashiki print is a huge trend right now in fashion. In the past, Dashiki was considered very casual as in loose fitted tops with usual embroidered v-shaped collars and sleeves but today dashiki style Ankara shirts and short dresses are greatly admired by fashion enthusiasts. You can doll up your baby girls in these cute and cool colored dresses and make them look extravagant.


#10- Western Style Ankaras
Glam is the adjective I use to qualify baby girls in stylish Ankara outfits because they look so beautiful and spectacular. Ankara skirts and shorts blended with western tops can give your little girls a very aesthetic look.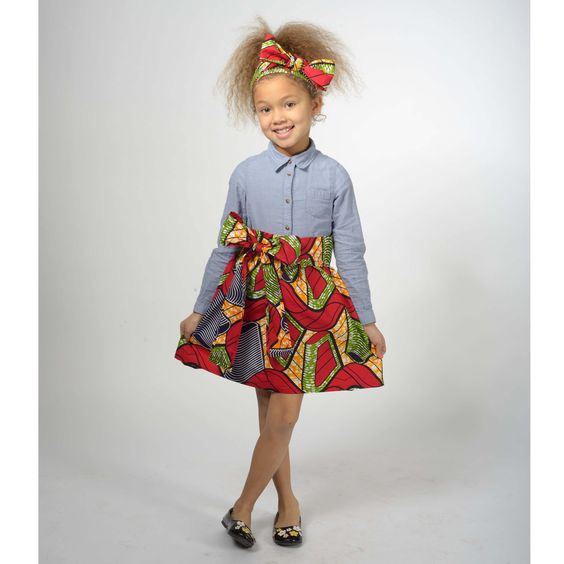 #9- Ankara Dresses for Fall
Stylish Ankara fall dresses worn with leggings and boots are perfect for your beautiful daughters to complement their beauty. Ankara frocks with plain leggings can accentuate their appearance in winters and give them a very stylish look.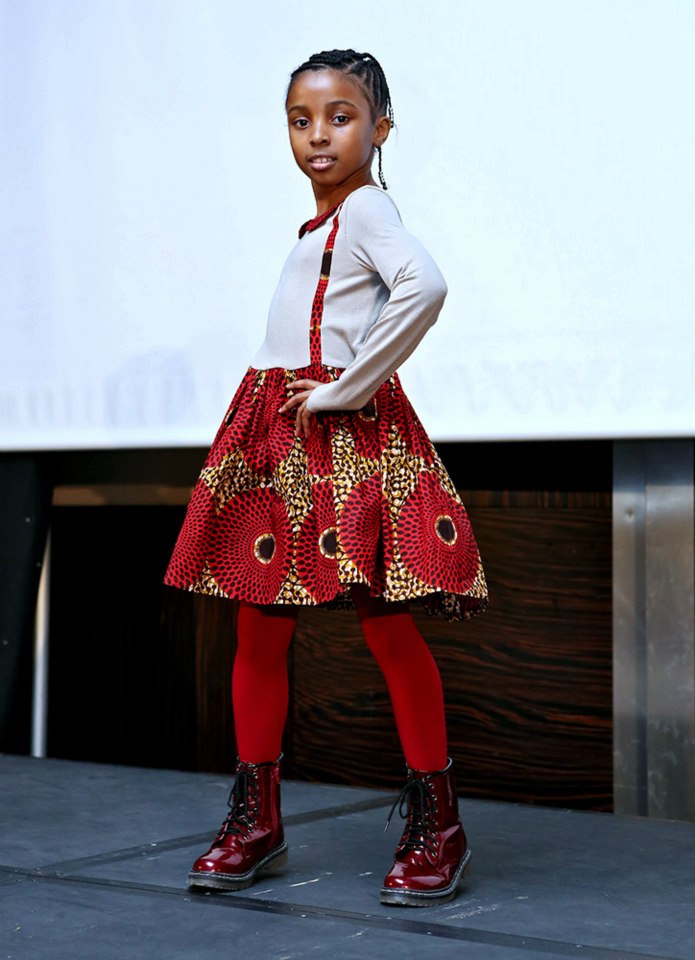 #8- Mommy and Kids Matching Ankaras
As cool moms, you can wear nice Ankara dresses, matching your princesses to look chic, add a little bit of swag to be on top of the games. Everyone from Beyonce' to Kim Kardashian has embraced the new Ankara. Thus, these bright and charming dresses are not only for your kids, you can also wear these outfits modestly.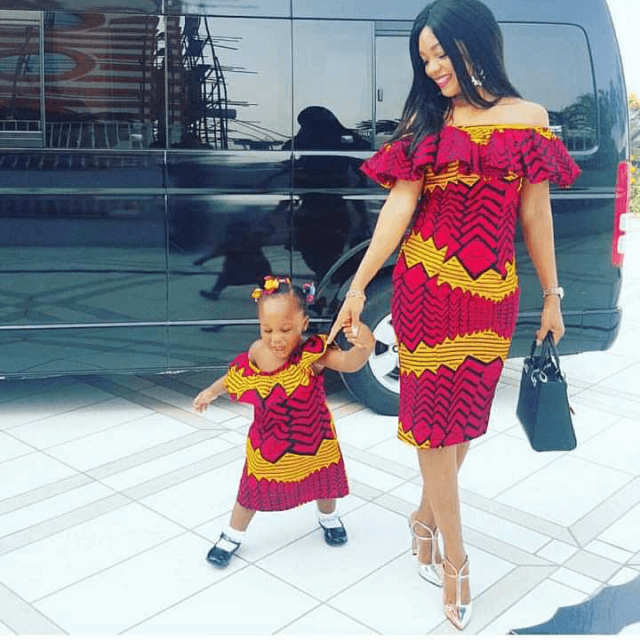 #7- Ankaras for Wedding Occasions
Using Ankara-inspired print fabrics, you can transform the original cotton using silk, chiffon or any other thin material and create a luxuriant western style dress. These dresses will look extravagant on occasions like weddings.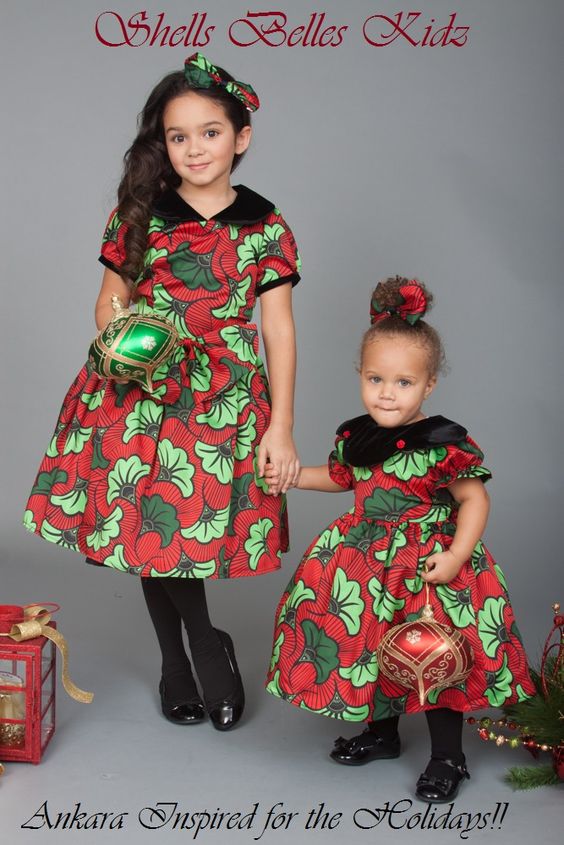 #6- Ankara Dresses for Christmas
Ankara tutu dresses can make your little princesses look perfect and charming. The tutu style mingled with Ankara is extremely modern and trendy. Style your baby girls in these adorable tutu inspired Ankara dresses!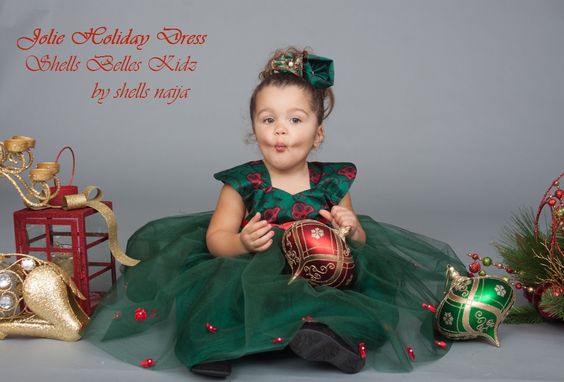 #5- Ankara Dresses for Parties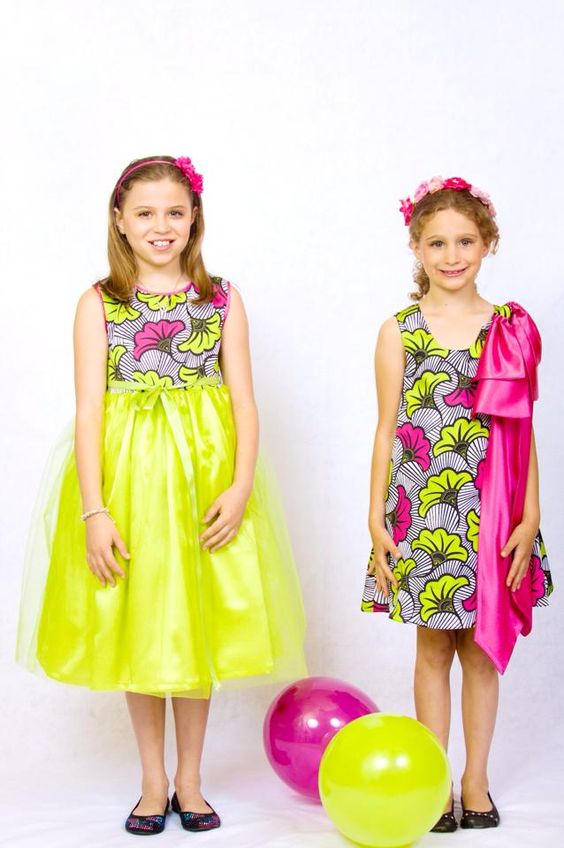 For birthdays, anniversaries, casual parties and much more, you can rock matching Ankara outfits with your princess and or with the whole family. Embrace the fashion in these enchanting Ankara dresses and I bet you both gonna look gorgeous and fabulous. The silk and chiffon Ankara dresses are ideal for parties and social events.
#4- Swag Ankara Jackets for Baby Boys
Just like other male fashionistas, your little boys can also slay Ankara jackets on formal events. You can also make your adorable baby boys look fantastic and dashing in these Ankara jackets, especially that which is made of Ankara fabric "winks" (for the love for Ankara though).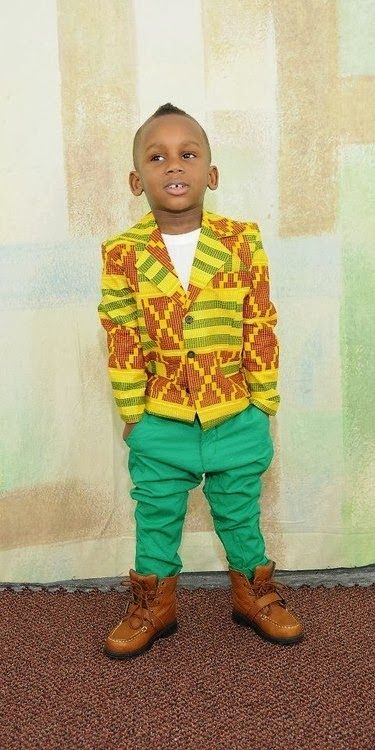 #3- Best Girls Hairstyles to Carry With Ankara Dresses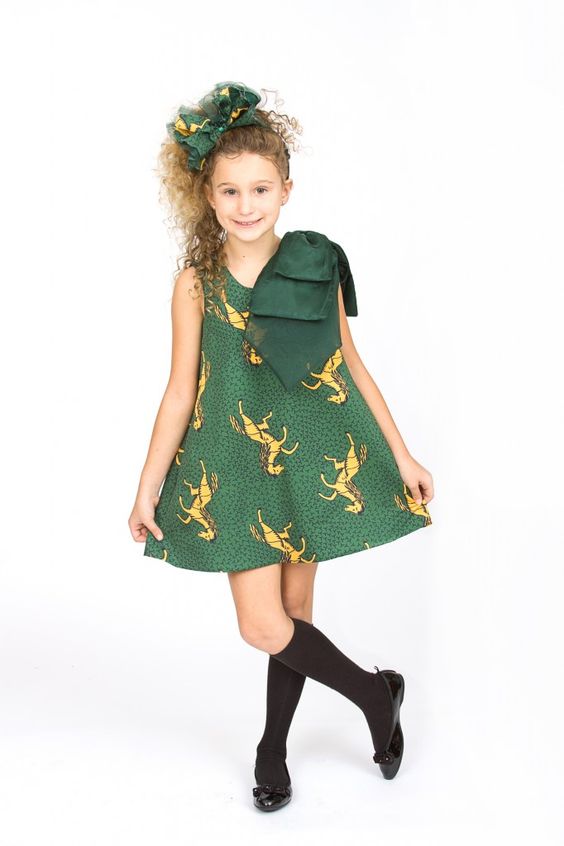 You can highlight these fantastic Ankara dresses with not only African and Dutch braids but also with these Ankara Fabric hairbands. Side buns and high pony tails will look exceptionally adorable as well as modest on formal events.

#2- Cutest Kids Accessories with Ankaras
One piece of scene-stealing Ankara hairband is also a must-have for every Ankara outfit. Even a sophisticated little black dress can be complimented with a unique piece of designer Ankara hairband. Even matching Ankara hairbands make little girls look super cute.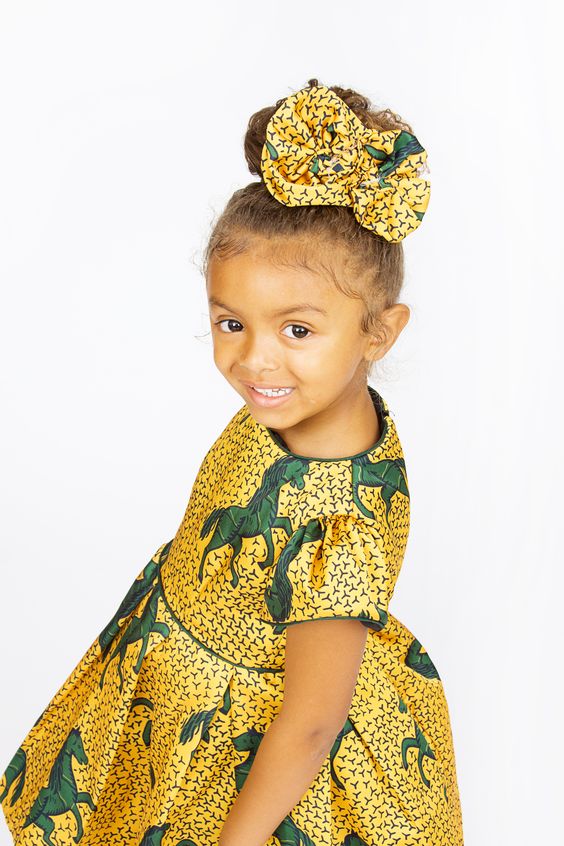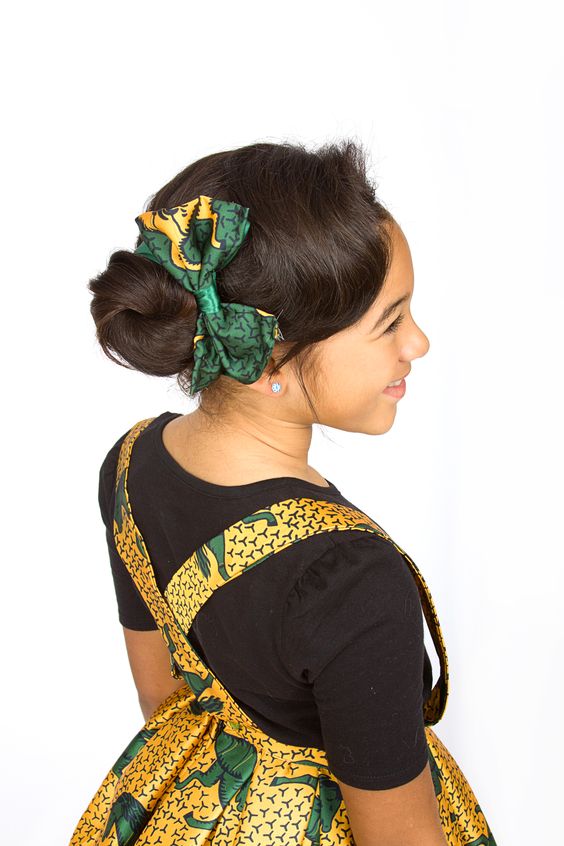 #1- Shoes to Wear With Ankara Dresses
Flat pumps are immensely worn with the formal Ankara maxy skirts and frocks while gladiator sandals look stunning if worn with Ankara summer dresses. However, boots will give a complete and perfect look with fall style Ankara frocks.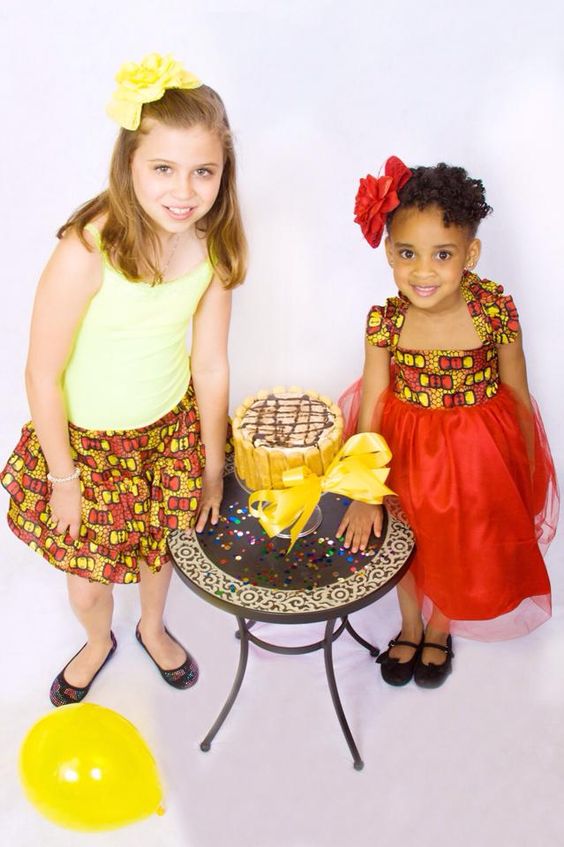 Fashionistas all over the world are overwhelmed with the art of Ankara. In fact, it is kind of obvious that Ankara designs are admired so widely that they are not part of the ordinary fashion scene.
(Visited 398 times, 1 visits today)